Change is difficult for nearly everyone, I had been a customer of the Commonwealth Bank for over 18 years. It was comfortable – easy to just leave things as they were.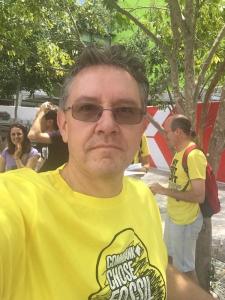 I almost got motivated last year when Market Forces had the first divestment day, but after a quick look I decided it was all too hard as I had far too many financial bits to move around. This year I made a decision I would divest from the various mainstream financial institutions that I was using and shift to ones that better align with my personal philosophy.
When I include my super, loans, shares and various other bits I've shifted about $500,000 from mainstream financial institutions to ones I'm more comfortable with; note it's more – not completely comfortable, I may yet move my super again from UniSuper to Future Super.
This is a brief overview of the process I went through in case it helps anyone else divest from their existing financial institutions; it could be a bit overwhelming if you have not shifted your finances around before.
First figure out what you need from your new institutions
What do you need from a bank / or super fund? Me, I needed the following:
Transaction account
Account for my son to continue his education on money matters
Credit card  – with built in travel insurance
Share portfolio management capability
Need to take cash money out of an ATM in NZ without incurring instant interest
House loans; at a competitive rate
Socially Responsible super investment (not certain I'm there on this one yet)
I started with the excellent guides at Market Forces on switching banks and investigated the possible options that would work for my finances.
For us Bendigo Bank seemed the best fit and their board making a firm commitment to not funding the fossil fuel industry was what finally convinced me to choose them as my new bank. They met all my criteria, overseas cash works via having a debit MasterCard linked to my transaction account. My super is with UniSuper at present in Socially Responsible and Global Green investment options – that is a work in progress……
Changing banks…..
This is the long part. They don't make it very easy, the government put "easy switching" in place but that only applies to direct debits from your account – not transactions on your credit card. Where you have a monthly bill for insurance, for example, that is charged directly to the credit card this you have to change yourself.
I'm fairly organised and could lay my hands on the last 12 months of statements to check what had been paid as direct debit, what was direct on the credit card, what was from scheduled BPay and what was set up as BPay direct.
First step
Open your all your new accounts at your low carbon bank of choice, easy bit done!
Second step
Get them to aid in submitting the change of direct debit – or find the change of account form on your suppliers website and submit it.
I had the interesting experience that one of my suppliers wanted a followup "real dead tree copy" of their own change of DD form after they had received the "govt" one, or "the payment may revert to the original account". My advice here would be do it yourself once is likely to end up being simplest.
BPay is easy, copy all the details from one banks online site to the other (or re input as the bills come in).
BPay direct if you have it set up is harder – you must de-register the connection from your current bank before attempting to set it up with the new bank or it will be rejected and fail.
All those people who charge your credit card monthly for insurance (and stuff) and annually for website hosting etc depending on your finances. Google is your friend for finding their contact details – I found most of them very helpful, it's effectively updating your credit card details which can occur due to fraud or lost cards, not just changing banks. It's normal and they are used to it. Look for online options with your providers as well – my internet service provider for example lets you change the card online, as does World Vision and Get Up.
To help here's a list of things I encountered that needed either accounts or credit card details changed:
Pay, talk to your work and change where it goes – I could do mine online myself, you may not be so lucky
Super payments – does your work sort that out or do you have to do something?
House, investment or personal loans – you may need to change default payment and redraw details
Insurance, car, house, boat, life, medical, pet, income protection etc
Do you have shares? where do the dividend payments go?
MediBank refunds, have you got your bank account registered? You can change this online through MyGov.
Do you have subscriptions paper, news, music services (Pandora, Rdio), foxtel…..
Online shopping iTunes, Amazon, and PayPal
Internet services ISP, web hosting, image hosting, gaming accounts
Do you donate to charity and do they bill your credit card? Mine do.
Do you have investment property and pay land tax, rates, collect rent?
Are you living in a city with toll roads and do you have an account?
Look through your statement for the last 12 months and see what goes out regularly you may find stuff you can stop that you'd forgotten you pay for 😀
If you are moving shares as I did they all seem to have a nice form that allows you to move your CHESS sponsored shares from one provider to another in a single transaction. I took the opportunity to shift some issuer sponsored shares to CHESS as well to tidy things up while I was at it.
Third Step
Don't close your old accounts yet, I waited over a month and left some money in the old account "just in case"; proved wise as that is when I found that the government form isn't perfect and it can be better to do the change yourself. I also had a glitch with one insurance company where 2 out of the 3 payments changed but their system had a "moment" and left one pointing at the old credit card.
Fourth step
Close your accounts and make sure the bank you depart from and the one you arrive at know why – be public about it! Good form letters here at Market Forces.
My customised one to CBA here.
In conclusion
I was very public about my closing of accounts in Brisbane today, it felt empowering to know that I've made a small difference by changing how I direct my money.
It's all about the money really for those of us in Australia. When there is complete policy and action failure by all levels of government there is very little else we have left to use as a lever to move our society in the direction of a low carbon future.
I know I'd like to leave the world in a fit state for my son and future generations so I'm trying to do my small bit to assist.
Hope some of you out there find this useful.
Regards Brian
Your ads will be inserted here by
Easy Plugin for AdSense.
Please go to the plugin admin page to
Paste your ad code OR
Suppress this ad slot.